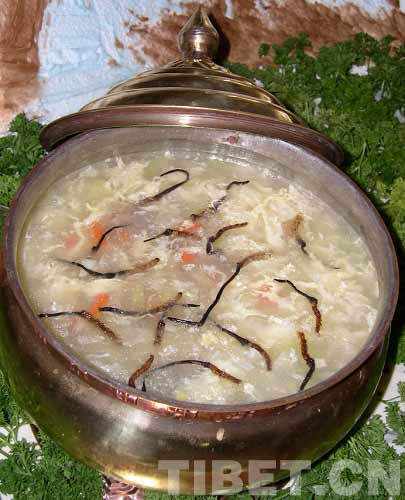 Caterpillar fungus, photo from China Tibet Online.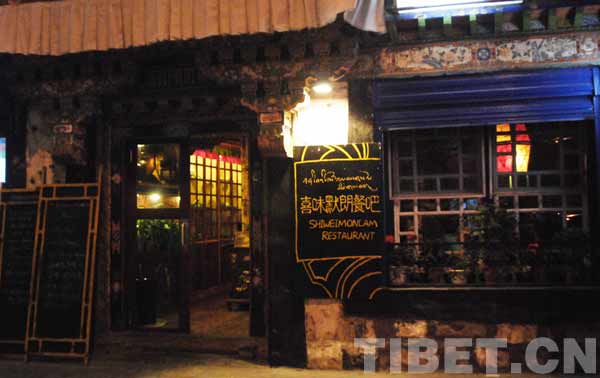 Shimeimonlam restaurant at night, photo from China Tibet Online.
Traditional Tibetan style, leisure environment, classic decoration, together with professional service, Tibetan restaurants such as GangLa Metok,Snowland,Shimeimonlam are getting hot among tourists from home and abroad along the Beijing East Road of Lhasa, capital city of Tibet Autonomous Region (TAR).
Li Qiuhong, manager of Shimeimonlam restaurant at the Beijing East Road, used to be a tourist ten years ago when she first arrived Lhasa, while later, her foot were laid down here with the opening of the "Potala Restaurant"in the year 2002, which is the Shimeimonlam today.
"Shimeimonlam"means peace and happiness, which also embraces Li Qiuhong's own understanding of Tibet in the past decade. "In my understanding, food plays an indispensable part in the traditional folk culture.It is a pretty common way that many travellers and tourists get to know a local custom."said Li.
In an exquisite Tibetan Restaurant, you can find people from all over the world. Besides, they are also favorate places for local residents where they can enjoy a cup of butter tea or receive their business partners.
With development of the local Tibetan food, it is far more than simply some Tibetan noodle, fried tomato or lamb chop at a Tibetan restaurant in 10 years ago.TAR Food and Beverage Association is working hard to promote Tibetan food to the world by inviting chefs from home and abroad to Tibet for communication and exchange so that people are able to better understand traditional Tibetan food culture.
Tibetan food is walking out to the world outside. In May of this year, Tibetan food has attracted many tourists for its natural characteristic on Shanghai World Expo. Tibetan restaurants can be found not only in Lhasa, but also in inland cities such as Beijng,Shanghai,Chendu etc. Besides, local Tibetan chefs are trying to assimilate different factors such as taste, nutrition etc to cater need for popular demand while keeping Tibetan tradition at the same time.