The Second Conference of China Association for Preservation and Development of Tibetan Culture (CAPDTC ) wrapped up its last agenda.
Drukhang Thubten Khedrup, vice president of the Political Consultative Conference of Tibet Autonomous Region (TAR) and vice chairman of China's Buddhism Association, living Buddha of Tibet's Shabten Monastery, Geleg, deputy chief and senior researcher of China Tibetology Research Center, Wu Shuqing, member of the Standing Committee of Chinese People's Political Consultative Conference and Ngabo Jigyon, chairman of Association of Industry and Commerce of TAR were all elected new members of the Executive Council of the CAPDTC, who delivered speeches in Tibetan language at the conference.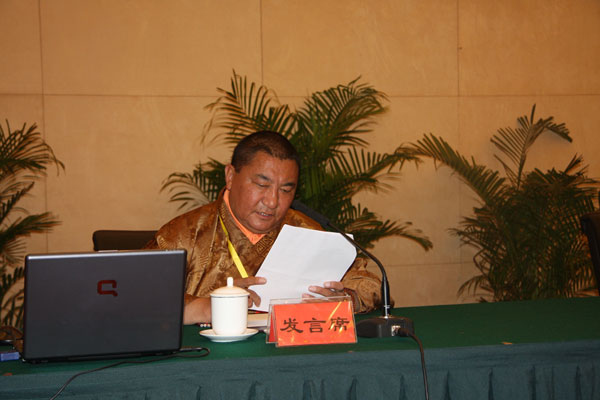 Drukhang Thubten Khedrup is delivering a speech, photo from CTIC.