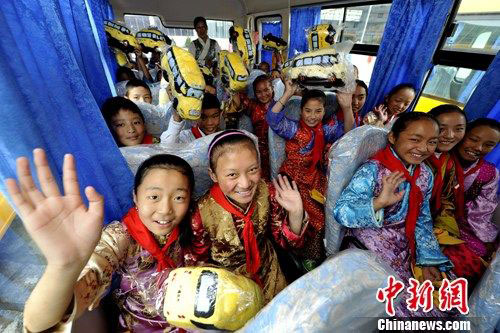 Students sit on the bus in traditional ethnic costumes on June 29, 2011. [Photo/chinanews.com]
The municipal government of Lhasa, the capital city of Tibet Autonomous Region in southwest China, purchased 53 school buses to put into service on Wednesday, the chinanews.com reports.
The buses cost about 13 million yuan ($2 million) in total, and provide service for primary and secondary school children in seven counties and one district in the city.
The school bus manufacturer in central China says the buses were made in accordance with the standards of American-made school buses, both in appearance and performance that goes beyond national standards and has the most advanced technology in China, according to the report.
The bus is painted yellow and has a "long nose" which protrudes forward 1.5 meters, designed to absorb a crash to give protection in a head-on collision.
Considering that the Tibetan Plateau has high altitude, air pressure is too low and this causes inefficient gas burning. The manufacturer adopted special component parts to avoid frequent misfire while driving. The new school buses have an independent heating system, and extended battery capacity, air intake preheating equipment on engine start and anti-lock braking system, the report said.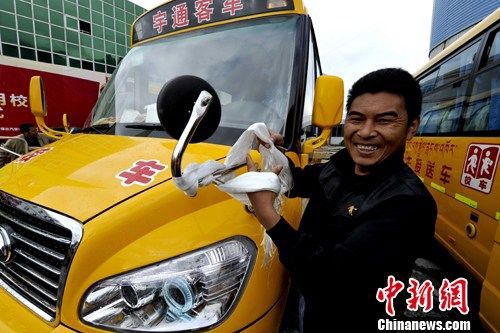 The drive ties a hada on the side mirror of a school bus on June 29, 2011. [Photo/chinanews.com]