Mt. Kangrinboge (or Mt. Kailash), Asia's holiest mountain in Nagri of south China's Tibet, is to witness the highest charity race early next month, said non-public "Apple Charity Fund" at the dedicated press conference on Friday in Beijing.
About ten teams composed of celebrities, philanthropists and outdoors fans will be organized to attend the trekking race around Mt. Kangrinboge at a height between 4700m and 5640m, the highest of its kind ever recorded in history.
Given the high altitude, it is no doubt a "challenging" race.
Alpine guides and medical experts are specially invited from Tibetan Mountaineering School to convoy the racers. Altogether nine staging posts and medical sites are planned as pre-stage investigation has completed.
For everyone participating in the charity race, Apple Fund will donate medicines worth up to 1,000 yuan to the local grassroots medical houses, and for each participating team, medicines worth 12,000 yuan will be donated.
"It is an innovation to combine philanthropy and outdoors sports together in China," said Wang Yongfeng, first Chinese topping all highest peaks around the seven continents and now head of China's national mountaineering team. "Through such a race, more people will know both charity and outdoors sports better."
As Gangdise Range's secondary peak, the 6721m high Mt. Kangrinboge has for long been respected as the Holy Mountain all around the world by a large number of followers. It is also rendered as the center of the universe in Tibetan Buddhism and other three Asian religions.
Neither the highest peak nor the most difficult route, Mt. Kangrinboge is the only virgin peak that has never been topped among the climbers, out of faithful piety. However, every year tens of thousands of pilgrims come all the way to take ritual walks around the mountain.
Environmental protection will also be highlighted and promoted in the race, Vincent Zhou, secretary of Apple Charity Fund introduced. Racers are encouraged to pick trashes left by ritual walkers during the trek and that will be weighed and calculated into the incentive time reduction. Also the trash distribution along the route will be recorded and analyzed for future trash recycling site construction.
Apple Fund has been engaged in charity activities including education, medical treatment and cultural preservation in Nagri for years. Wang Qiuyang, director of the fund and the first Asian female who has finished the "7+2" outdoors wonder, will also attend this race next month.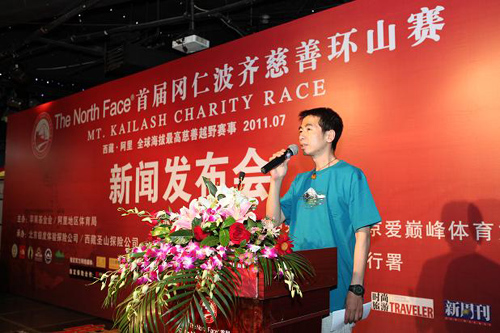 Vincent Zhou, secretary of "Apple Charity Race" introduces the "Mt. Kailash Charity Race", world's highest outdoors charity race at the press conference on Jun. 8 in Beijing. The race co-hosted by Apple Charity Fund and the local government of Nagri, southwest China's Tibet, set to start to open in early August.