The graduation ceremony of the training class for Mongolian monks at the High-level Tibetan Buddhism College of China was held at Xihuang Temple in Beijing on June 1.
10 monks from the Sain Nomun Monastery in Ulaanbaatar, Mongolia have completed the eight-month course.
According to the college, seven of the monks received novice rings in Xihuang Temple. The monks in this class were diligent, polite, and dynamic. For the 10 monks who completed the course, the college hoped they would continue to advance their studies and improve their Buddhist attainments, carrying on the Buddhist traditions of compassion and altruism, and being compassionate towards all beings. The college also hoped they would become friendly ambassadors between China and Mongolia, promoting cultural exchanges between the two countries, and after returning home, they would share what they have learned, seen, and felt while studying in China with their family, friends, and other Buddhist followers.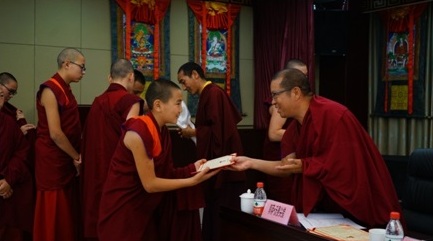 Monks from Mongolia receive their certificates of graduation.