May is the time of wild peach transplanting season, when people living in Nyechong Village, Derong County, Garze Prefecture, Sichuan begins their day with planting peach tree seedlings at sunrise until sunset. The fragile peach seedlings are not only the main source of income for them, but also are something environmentally-friendly that they can leave for future generations.
And all of this began with a single WeChat group chat.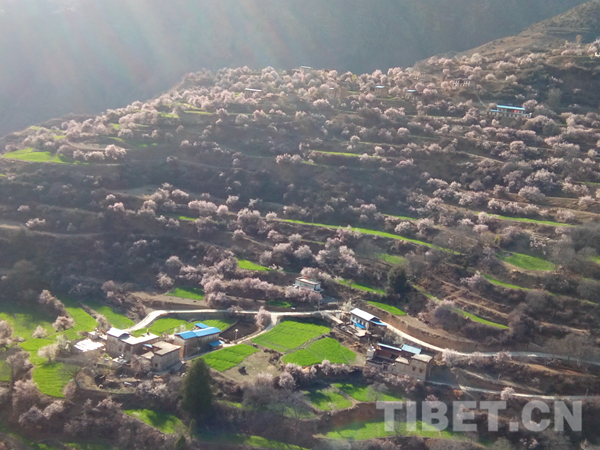 The village with peach blossom.
"If I had not joined in that training course, I probably would never have known that rural tourism could be like this,"Nyima says as he squats by the side of the road digging a hole for a new seedling, sighing.
His story begins with a training course in 2016, when Nyima, the village head, was assigned to participate in a county rural tourism observation and training course in Shangri-La, Yunnan. Back then, as he left the mountains for the first time, he was dazzled by colorful and tourist-friendly Yunnan. Following his instructor around to tour and learn from experimental tourism villages in Shangri-La for a few days was like filling a small battery with "high voltage electricity".
The training course not only taught him about rural tourism, the peers in the course also showed him something novel called a "WeChat group chat" which could be used to communicate with other people. From then, even the illiterate in his village started using WeChat by using the voice note function, and Nyima created a group chat.
After the training course, he had new ideas about rural tourism, and he returned to his own village and began to wonder how he could develop rural tourism in Nyechong Village. He used data analysis skills he had learned in the training course to analyze the land, water resources, climate, transportation, and geographic location of the village.
"During the course, we learned the Central Government's request for villages to develop in an environmentally friendly way. Although I didn't know much, I thought that planting trees would be a way to protect environment and make money." As Nyima mentions this, he becomes a little embarrassed and scratches his head. Then, he was determined to plant trees.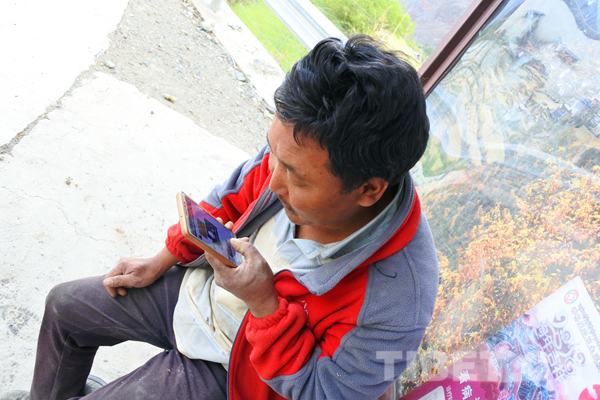 Nyima mobilizes other villagers to plant trees via the WeChat group chat.
"At the beginning, we planted walnuts, but not many survived. Later, when I saw a nearby village collecting peach kernels, I thought we could plant peach trees, which would look beautiful, and we would also be able to sell something from them." At the end of 2017, the 19th National Congress of Communist party of China opens. Some township officials came to the village, "They told us that the Central Government had been making efforts to revitalize villages and rural tourism. It seemed that the county would engage in tourism, so I also wanted to do it."
People of Nyechong Village then started planting peach trees. First, seedlings were planted in a planting base nourishment belt and then transplanted to the ground. More than 400 peach trees were planted in the year 2017, and the survival rate was more than 98 percent. At first, the villagers did not fully support or understand the project.
"I told them that a clean environment and beautiful homeland is the best thing we can leave for future generations. At the same time, peach trees fruits can not only be eaten and used as feeding, but also have economic value. Every year there are fixed sales channels for peach tree products, so no one has to worry about selling them. Last year, our village sold peach tree kernels at a price of 85 yuan per kilogram. Many people sold 5,000 yuan worth of kernels, with the lowest income at more than 2,000 yuan. I also told villagers that our ultimate goal is to create a 'Peach Blossom Village' brand that will attract tourists and help us develop rural tourism. This is the long-term way for prosperity."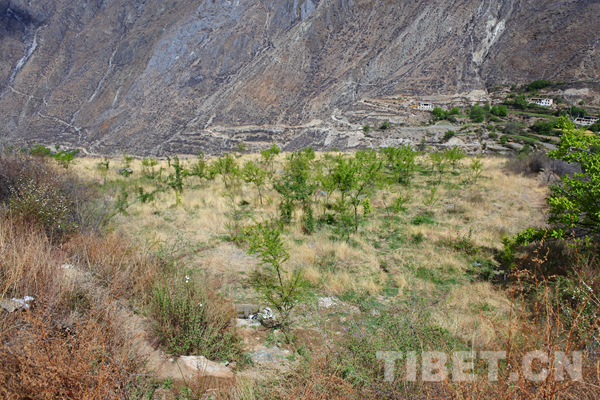 Wild peach trees planted by villagers.
A villager named Tsemo remembers, "At first, I didn't really understand the village committee's plan. First of all, the village didn't have the money to carry out this kind of construction, and it would require us to invest a lot of labor. If we go out to work as migrant workers, we would earn two or three thousand yuan in about 10 days. Everyone was reluctant to do it. But as Nyima kept sending messages in the WeChat group chat every day, saying the advantages of planting peach trees, so we slowly began to understand that the village committee was doing this for everyone's sake. Whether or not can we succeed in building the 'Peach Blossom Village' in future, we should try and leave some environmental wealth for our children."