Wang Yang, member of the Standing Committee of the Political Bureau of the CPC Central Committee and Chairman of the National Committee of the Chinese People's Political Consultative Conference, made an inspection tour in Gannan Tibetan Autonomous Prefecture in Gansu recently.
Wang Yang stressed that all works should be guided by the Xi Jinping Thought on Socialism with Chinese Characteristics for a New Era and local government agencies of all levels should attach great importance to works concerning Tibetan ethnic group, pay attention to its specialty, earnestly carry out the central government's strategy on managing Tibet and Tibetan-inhabited areas, and launch various anti-separatist activities, so as to promote national unity and religious harmony. At the same time, efforts should be made to help the poor get rid of poverty, improve people's livelihood and achieve healthy social and economic development and long-term stability in Tibetan-inhabited areas.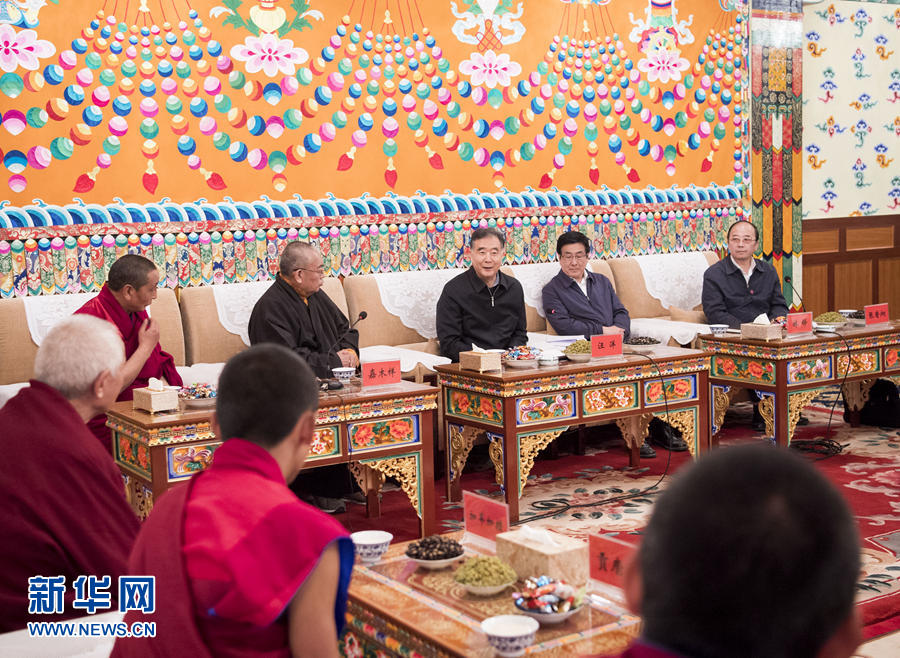 Wang Yang attends a discussion in Labrang Monastery in Sangchu County, northwest China's Gansu Province, on May 22.
From May 21 to 23, Wang Yang visited the rural and pastoral areas, companies, schools and religious sites in Gannan to get first hand knowledge of the local economic and social development. He then presided a discussion and heard reports and advices from related departments. Wang Yang said that the local government had done fairly well since the 18th CPC National Congress in 2012, and Gannan had made new progress in all areas.
As for religious works, he said that the focus is to safeguard national unity and strengthen ethnic solidarity. Thus, works should be done to encourage more exchanges and interactions among different ethnic groups. Local governments of all levels should fully implement the Party's basic policy on religious affairs, uphold the principle that religions in China must be Chinese in orientation and provide active guidance to religions so that they can adapt themselves to socialist society. Besides, works should be done to strengthen management of monasteries and temples in order to ensure healthy religious development.
Wang Yang also pointed out that poverty alleviation work in Gannan and other Tibetan-inhabited areas is tough for these areas located in remote areas with high altitudes. Thus, local government should strengthen leadership in the work, make sure related policies are fully implemented, and promote targeted poverty alleviation. At the same time, the concept that lucid waters and lush mountains are invaluable assets should be built up and all works should be done with the bottom line of protecting the blue sky, green water and fresh air in Gannan.