Shang Tao and Andy are playing Go chess.
Lhasa in May is already spring time and would sometimes rain. Andy, an American, was walking on the Barkhor Street.
Andy is the chairman of the American Go Chess Association, who has once hosted the chess championship at Harvard University and knows Chinese culture, especially Go chess culture well.
Andy is friends with many Go chess players in China. On this trip to Lhasa, Shang Tao, the chairman of the Go Chess Association of Tibet Autonomous Region, played host to Andy.
Shang Tao has been the Go chess champion in Tibet for years. He has hosted many well-known Go chess players from all over the country, such as Nie Weiping and Jiang Zhujiu, etc. This was his first time hosting an American Go chess player, so he has asked a translator to help, and personally cooked for his guest.
Shang Tao greeted Andy with the white hada in front of his house. Andy was excited, saying this was a very ceremonial ritual. After some brief talk, the two men began playing Go chess. Andy's chess was at amateur level three while Shang was at level five, and soon the winner was apparent. Andy wasn't upset after losing the game, he joked, "this is your turf, so I couldn't beat you."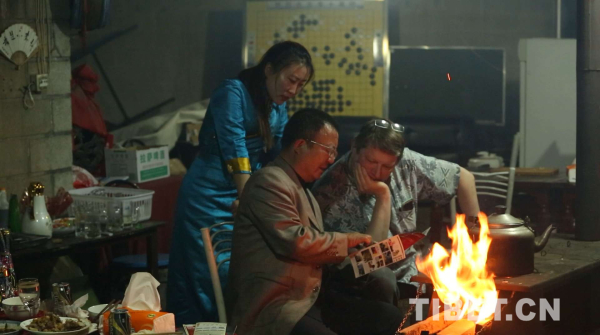 Shang Tao introduces Tibetan chess to Andy.
Andy knew how to use chopsticks and wanted to try dishes tourists wouldn't try but locals preferred, so Shang prepared raw beef paste, blood sausages, and other traditional dishes, as well as red wine. Andy kept making toasts to express his gratitude.
After the meal, Shang lighted the stove and explained the rules of two major kinds of Tibetan chess to Andy, and gave a demonstration as well.
Andy was really interested. He said he had no idea this trip would be so fruitful, and that he'd like to come to Tibet again to learn more about Tibetan chess.
Before he left, Andy formally invited Shang Tao to come to the Go chess championship in the US this year, unfortunately, Shang couldn't attend due to other obligations.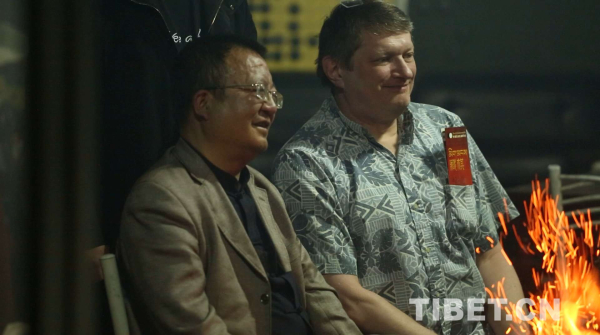 Shang Tao and Andy take a photo together.
The ancient and mysterious Tibetan chess is attracting chess lovers both in China and abroad. As a version of the classic Go chess, Tibetan chess is becoming more and more popular worldwide.