From May 13 to 16, the 14th scripture debate examination for advanced title of Tibetan Buddhism was held in Beijing at the High-level Tibetan Buddhism College of China, the highest Buddhist academy of China, with 20 monks from the Gelug and Sakya sects of Tibetan Buddhism taking part in.
The scripture debate examination system is a method in Tibetan Buddhist monastic education for assessing achievements and promoting students to the next academic level. Scripture debates involve forceful hand clapping, and those posing questions can also intimidate their opponent by standing in an imposing manner. In general, a student must answer several questions before passing the exam.
This particular advanced title exam integrates the thesis defense method of modern education, and students who pass both the scripture debate and thesis defense will be granted the Thorampa advanced title of Tibetan Buddhism. Both the assessment committee and thesis defense committee are composed of highly knowledgeable members of the Tibetan Buddhist community. 
The High-level Tibetan Buddhism College of China was established in 1987 after being initiated by the 10th Panchen Lama (1938-1989) and Mr. Zhao Puchu, former president of the Buddhist Association of China.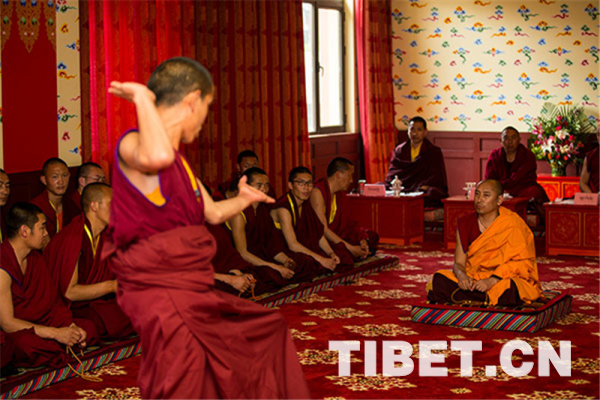 Photo shows monks from Sakya sect of Tibetan Buddhism are attending the scripture debate exam.