A ceremony for donations of Mr. Xing Suzhi, a famous Han monk who pursuits Buddhist study in Tibet, was recently held at the Tibetan Culture Museum at the China Tibetology Research Center in Beijing.
Ms. Zhang Zhiwen, Mr. Xing Suzhi's widow, attended the ceremony and donated 58 of her husband's possessions including images, manuscripts, old photos, maps, and cameras to the Tibetan Culture Museum.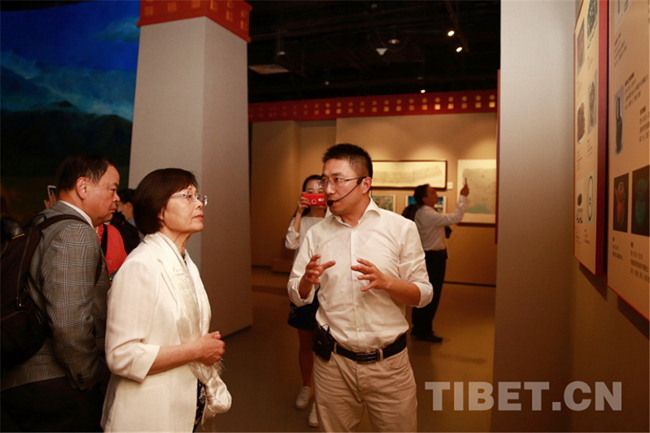 Ms. Zhang Ziwen, widow of Mr. Xing Suzhi, a famous Han monk who pursuits Buddhist study in Tibet, visits the Tibetan Culture Museum at the China Tibetology Research Center.
Xing Suzhi, who adopted the Tibetan name Lobsang Tendrup, was born in Nanjing and had already become a monk before he came to Tibet. In his youth, he entered the Sichuan Chongqing Han-Tibetan Institute of Religious Doctrine to study Tibetan language under Taixu, a modern Buddhist master. In 1937, he went to Drepung Monastery in Tibet to study doctrines of Tibetan Buddhism. Later, he became the first Han Chinese to obtain the highest degree in the Gelug sect of Tibetan Buddhism: Lharampa Geshe.
Early before he first came to Tibet, Xing Suzhi has compared him to Xuan Zang, a famous monk from Tang Dynasty who travelled to India for Buddhist study in the seventh century and wrote a book titled the Great Tang Dynasty Record of the Western Regions based on his experience, planning to make investigations of Tibet's geography, folklore, and social conditions as he studied scripture there "so as to help Han people better understand Tibet".
Along the way, he experienced many hardships and obstacles, but he worked hard to overcome all difficulties, traveled extensively around Tibet, and entered the Drepung Monastery to study Buddhist doctrine.
During his time in Tibet, he visited Shigatse and other places for investigation whenever there was opportunity. Besides, he also visited Nepal.
Later, he was determined to devote himself to education in border areas, accepting this mission given to him by the times in which he lived. He renounced his monkhood, and began running a school, serving as the principal of Lhasa Primary School, a public school.
From Nanjing to Tibet, from a Han Buddhist disciple to a Lharampa Geshe holder on the plateau, Xing Suzhi's personal fortunes became closely bound with the destiny of his country.
Xing Suzhi witnessed the complex changes in Han-Tibetan relations during the late 19th and early 20th centuries. He was an important figure in communication and interaction between the then Central Government and the local government of Tibet, and was a witness who had a major impact on historical events.
Thus, he left behind many precious and rare historical materials after he died. His widow has donated some precious cultural relics to the Tibetan Culture Museum.
At the donation ceremony, Ms. Zhang Zhiwen delivered a speech. She introduced the life of her husband and the outstanding contributions he made during his lifetime to promote Tibetan culture and Han-Tibetan cultural exchanges.
The China Tibetology Research Center is the highest academic research institution in the field of Tibetan studies in China. The Center's Tibetan Culture Museum has continued to amass a collection of historical materials related to Tibet since its establishment. Its Historical Research Institute also focuses on researching the history of the Republic of China, in which it has achieved great results.