"It's unusual to see exotic Buddhist buildings at such an ancient Chinese temple. They're so delicate and look so different from the traditional Chinese temples next to them," said Tang Chan, a 22-year-old college student, looking at the Indian shrine at Baima Temple.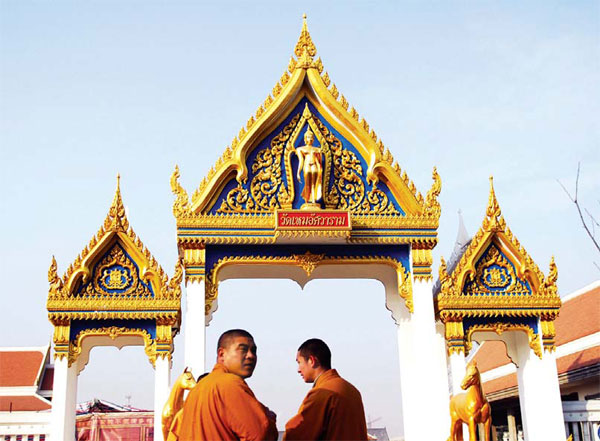 Two monks from Baima Temple pass a Thai-style shrine on Friday. The temple is planning to build an International Temples Zone featuring 10 exotic shrines from foreign countries. [Photo / China Daily]
The Baima Temple - White Horse Temple - aspires to be not only the oldest, but also the largest and most international Buddhist temple in China.
Henan province, in Central China, has approved a plan to expand and renovate the temple into a 1,300 mu (87 hectare) cultural park over eight years, the largest in China by then. It currently covers 20 hectares.
The almost 2,000-year-old temple is creating an International Temples Zone to showcase 10 exotic shrines from foreign countries, said Wang Xiaohui, director of the religious affairs bureau in Luoyang, where the temple is located.
The Indian shrine opened in May 2010. A Thai shrine built in the 1990s is being expanded and will open in April.
A Myanmar Buddhist garden will be created in April, Wang said.
"Details were discussed when Myanmar Minister for Religious Affairs Thura U Myint Maung visited Baima Temple and inspected the site on Dec 27."
The minister instructed that the decorative materials, mostly gems, for the golden canopy on the roofs would be shipped from Myanmar, Wang said.
Following the examples of the Indian and Thai gardens, other foreign temples will be funded by foreign governments, enterprises or religious groups, who will also oversee the construction, statue-making and decoration.
When they are completed, Baima Temple monks will manage the gardens.
Several other countries, including Japan, Nepal and Sri Lanka, have shown interest in investing in similar programs, Wang added.
"Baima Temple is widely regarded as 'the cradle of Chinese Buddhism' and has become an ideal place to demonstrate unique Buddhist cultures from different countries," Wang said.