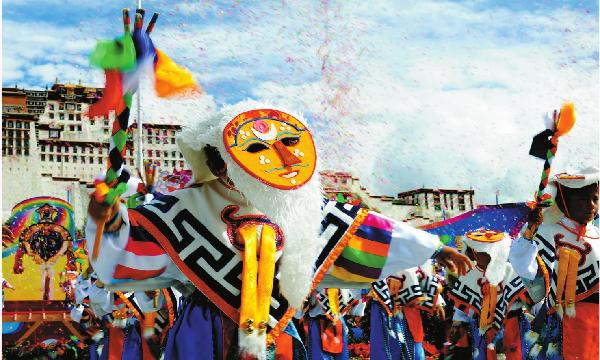 Actors perform the traditional Tibetan Opera Zhaxi Shoba (a well-known white mask Tibetan opera). [Photo/Tibet News]
Lhasa, an ancient cultural city boasting 1,300 years of history and gorgeous Tibetan culture, now still has 100 cultural relics and historical sites. Since Tibet's peaceful liberation 60 years ago, the Communist Party and the Central Government have attached great importance to the protection, inheritance and development of Tibetan culture.
Many traditional craftsmanship and art forms have gained effective protection and significant development including traditional music, dance, folk tales, ancient books, Thangka, Tibetan paper, Tibetan incense, etc.