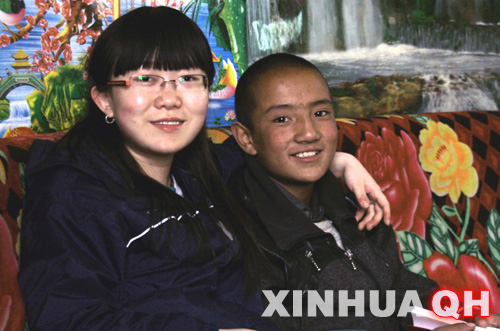 Zhang Ruiqian (left) and her student Niga, photo from Xinhua.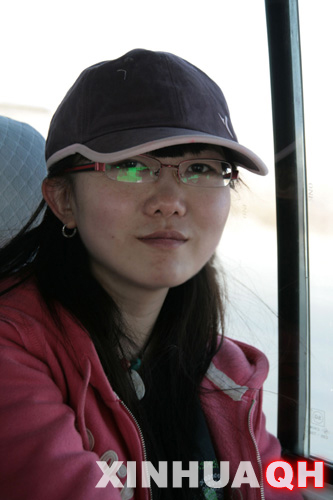 Zhang Ruiqian, photo from Xinhua.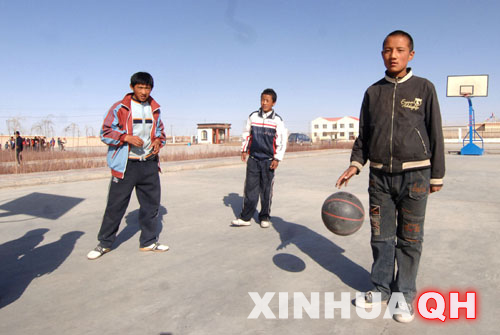 Nigai who has recovered from disease, is playing basketball in the playground, photo from Xinhua.
Zhang Ruiqian, an education volunteer to Golmud of Qinghai, has touched all Tibetans during her one-year teacher career in the Qinghai-Tibet Plateau, the world's highest plateau.
In 2006, Zhang Ruiqian from Nanjing University, came to Golmud of Haixi Tibetan and Mongolian Autonomous Prefecture, to support the region's education.
Nigai is one of her students. He has long suffered from serious leg disease and has once sunk into despair. Knowing that, Zhang Ruiqian called on all her students, friends and the public, to donate for the Tibetan boy.
With her great efforts, she successfully sent Nigai to Shanghai for an operation. Nowadays, the little boy can walk in gear and have come back to school.
Zhang Ruiqian's goodness has moved her students and all Tibetan people, hence, getting a Tibetan name as "Ganglhametok", means beautiful snowdrop in Tibetan language.
Now Zhang Ruiqing is studying for master degree in Nanjing University.