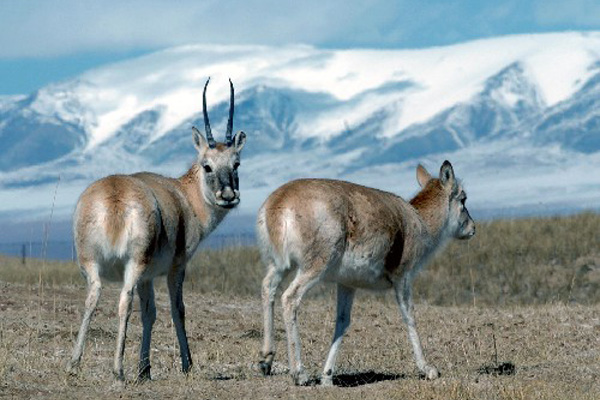 Tibetan antelopes search for food on grassland in Tibet. [Photo provided by China Tibet Online]
A herd of Tibetan antelopes gallops unhindered to breeding grounds at the other side of the Qinghai-Tibet Railway, contrasting concerns that the railway has disrupted their migratory-breeding route.
"I see groups of them bouncing through migration overpasses beneath the rail every summer," said truck driver Li Jingui, who has driven alongside the railway for years.
The 1,956-kilometer-long railway on the Qinghai-Tibet Plateau runs through Sanjiangyuan, Qiangtang and Hoh Xil nature reserves, -- China' s least populated area -- where masses of Tibetan antelopes migrate to breed in May.
The antelopes' migration hasn't been obstructed by traffic since the first train to Lhasa began five years ago, according to Xiao Penghu, deputy chief of Hoh Xil Nature Reserve administration.
The Qinghai-Tibet Railway, even before laying its first track, was flooded with worries of disruption to the antelopes' migration pattern, which some suspected would be detrimental to the graceful creatures that were already critically endangered due to ruthless poachers after their ultra-fine wool.
To alleviate concerns, 33 migration overpasses have been built in concert with construction of the railway.
During an afternoon of migration season, around 200 pregnant Tibetan antelopes march near a migration overpass. Hoh Xil rangers block traffic allowing this herd of soon-to-be mothers to pass through a migration overpass.
Miao Xiaohua, vice-president of the Qinghai-Tibet Railway Company, says that its employees are required to postpone or suspend ongoing projects if they interfere with antelopes' migration.
Qinghai and Tibet environmental protection authorities also claim the migration route wasn't fractured along the railway, which coincides with the conclusion in a letter from the Chinese Academy of Sciences on April 17, 2008 to Nature, an esteemed science journal.
The Qinghai-Tibet Railway's success in balancing the antelopes' welfare with the construction of a massive railway has inspired designers of other ambitious projects.
The builder of the Yi-Wan Railway in southwest China initially planned a tunnel through the Yangtze River but later replaced it with a bridge. This 30 million yuan substitution is to secure the breeding grounds of the Chinese sturgeon, a prehistoric-age fish.
Now, more Tibetan antelopes roam amid snow-capped mountains on the vast prairie. Hoh Xil alone has 70,000 -- an increase of 10,000 over five years.