Many Tibetan families have such albums containing photos which are yellowing as time goes by. These photos, more punchy than words, have shown the pace of social changes and the historical context.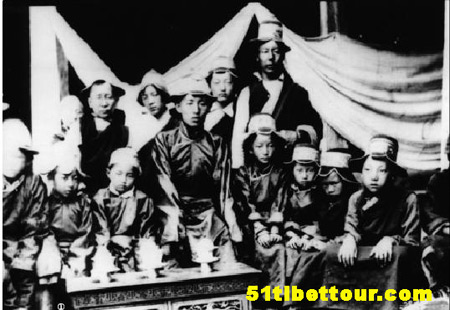 Picture shows an old photo of the Horkangsa Family, an influential noble family in old Tibet. (Photo Source 51tibettour.com)
The Horkangsa (or Horkang for short) Family, with a history of 200 years, was an influential big noble family in old Tibet. Its luxury residence north of the Barkhor Street, the commercial and cultural center in downtown Lhasa, now has been moved to a newly-built mansion in the Sera Road, Lhasa.
The family's 13th descendent Horkang Soinam Penba had served the Tibet's local government as a senior official before he was appointed the deputy director of the Financial Department of the PLA's (People's Liberation Army) 18th Army after Qamdo was liberated.
Pointing to a somewhat obscure negative, the family's 14th descendent Qamba Dainda recalled This photo taken in around 1920 is the existing oldest photo in my family. The man in the picture was my grandfather Horkangtasa Phuntsoknamgyai, who was Gaxag's (Tibet's local government) third highest-ranking secular official.
Horkangtasa's son Soinam Penba was born in 1918, when the Tibet's private school education was well developed. In the five years of study in Lhasa's famous Daboling School, Soinam had received rudimentary literal education and leant essential knowledge about social code.
After growing up, Penba was keen on photography. Among his photographic equipment was a foldable camera made in Japan in World War II, which could produce 12 pictures with a film. At the end of the 1940s, he took a large number of photos on his way to the Qamdo Governing Office of Gaxag.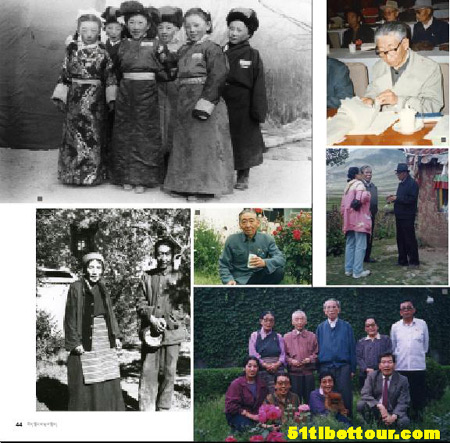 Picture shows some old photos of the Horkangsa Family, an influential noble family in old Tibet. (Photo Source 51tibettour.com)
(Xinhua Photo)
Following Tibet's peaceful liberation, as the representative of the fourth highest- ranking officials of Tibet's local government, Penba was invited to visit China's inland areas via the border city of Yadong, Gelunbao and Hong Kong. It was the first time that he guided a team in making an inspection tour in a newly-established industrial zone in northeast China.
Before long, the democratic reform was launched in Tibet. At that time, my father was working in the Counselor Office and Department of Translation of the Tibet Autonomous Regional Committee of the People's Political Consultative Conference. He was in a good mood every day, said Qamba. His mother, from a noble family in the Rear Region of Tibet, later joined the first group of Lhasa's Patriotic Sorority.
That day my parents were busy and yet their life was substantial. I could feel a congenial atmosphere teeming with my family. I still remember the photo I took for them beside our windowsill -- they looked so cheerful and contented.
Influenced by his father since young, Qamba has shown a great interest in the Tibetan ethnic culture. For times, he had taken domestic and foreign scholars and philanthropists to conduct investigation in Gyiamar. They also contributed money to the renovation of cultural relics. In 1999, Qamba and several Tibetan scholars found a precious ancient Tibetan l-go board in Chikang Village, Gyiamar, Maizhokunggar County, Lhasa. Having conducted research on the board, they recommended it to the Tibet Museum for collection.
These photos, spanning three generations of the Horkang Family, have revealed a kind of value and loveliness of their life. In real images, the essence and true quality of life have been reflected, giving out a streak of warmth and coziness.