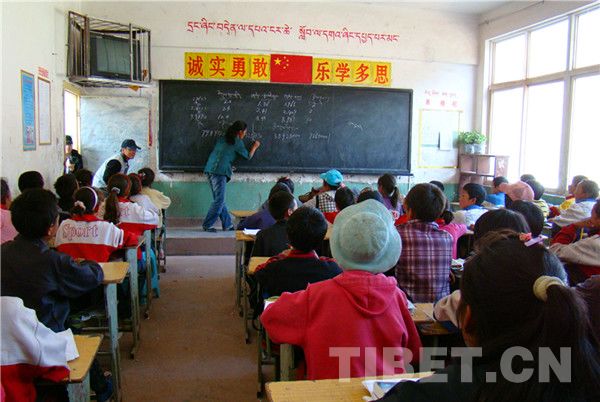 A teacher teaches Tibetan language in Zhag'yab County of Qamdo Prefecture, Tibet.[photo/China Tibet Online]
Recently, a seminar on cultural reform and development was held in Tibet to ensure that over 70% of cultural products be made in Tibetan language.
The Chinese Central Government has always put emphasis on studying and popularizing the Tibetan language. Tibetan primary schools in both farming and pastoral areas, cities and towns must implement bilingual education. And Tibetan learning is a must in both lessons and exams for Tibetan students. Besides, Tibetan language learning is set as a required course in both universities and secondary technical schools. The score of the Tibetan language course is included in the total for the enrollment of Tibetan students.
Once you turn on TV in Tibet, you can watch news, talk shows and other programs in Tibetan language. At newsstands, you will find plenty of newspapers and magazines in Tibetan edition. If you are a radio fan, you can't miss over 20 channels of programs broadcast in Tibetan language all day long.
Tibetan language has a niche even in the internet. In 1997, Tibetan language became China's first language of ethnic minority to have the international standard. In 2005, the Tibetan telecommunication system was officially launched, through which Tibetan farmers and herders are able to use unique cell phones to send text messages or make phone calls today. On top of that, a series of Tibetan IT products such as the Tibetan language input software, Tibetan computing platforms, Tibetan office systems, Tibetan internet browsers and mandarin-Tibetan-English online dictionaries have also become available one after another.