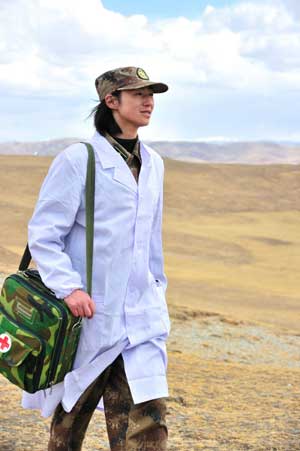 Peng Yan, 32, has been working for 12 years as a nurse at the Nagqu military sub-area clinic. Photos by Zhao Haibo / For China Daily
Despite suffering four diseases, 23 scars and 17 brushes with death in one of Tibet's most ferocious environments, Peng Yan remains committed to her work. Yang Guang reports.
Peng Yan feels acute pain in her knees as a fierce gale rages outside. It's still cold and blustery in the Tibet autonomous region's Nagqu in late May. "It's going to snow," she tells her husband Zhang Tao, rubbing her knees hard with her twisted knuckles to buffer the pain. Peng, 32, has been working as a nurse at the Nagqu military sub-area clinic since she graduated from a military medical school in Chengdu, Sichuan province.
She has been suffering from severe rheumatic arthritis since spending 18 hours trapped on a mountain during a blizzard while on her way to pay home visits to patients in 2000.
But her arthritis is only one of four diseases, 23 scars and 17 narrow escapes from death she has suffered on the northern Tibetan Plateau.
Nagqu, Tibet's largest prefecture, has long been considered a "no man's land" because of its extreme natural environment. The average annual temperature is -3 C on the plateau, which stands at an average of 4,507 meters above sea level.
The harshness of life here has whittled Peng's wired figure and textured her sun-crinkled complexion.
A total of 57 female soldiers and officers have served there over the past 60 years.
Seven stayed for more than 10 years but six passed away before the age of 37, because of various mountain-born illnesses.
Despite having lived in Nyingchi, Tibet, until age 17, Peng still suffered when she first arrived in Nagqu in 1999. She lost almost 10 kg in the first year.
"There was a thick layer of ice on the damp wall of our adobe house at night, and I could hardly sleep," she says, with a slow but determined voice.
The People's Liberation Army garrison soldiers planted 1,000 trees that year, but only one has survived until today.
Peng soon learned how to sweeten the bitterness. Before going to sleep, she would put a stick in a glass of water, which she placed on the windowsill. So every morning, she could enjoy a homemade ice block.
"It's fun," she says.
She says she chose to work in Nagqu because of the disastrous blizzard of 1998, her final year in college. She saw TV broadcasts about the catastrophe in Nagqu and was moved by the relief efforts.
"My eyes were wet with tears when I saw the PLA officers and soldiers trek through the snowfields to send supplies to the Tibetan herdsmen," she wrote in her diary.
"I want to join their efforts and make use of my knowledge to make my own contribution."
Peng says she regretted her decision and wanted to quit several times. That desire was strongest when she nearly tumbled off a cliff on the road to pay a home visit to a patient, when she saw her comrades die from illnesses - and especially when she thought of her 7-year-old daughter Hanhan, who has been raised by Peng's parents in Sichuan.
Peng married Zhang, her colleague, in 2001. They return to visit their daughter only when they are on holiday. The three have spent fewer than 200 days together over the past seven years.
Despite her vacillation, Peng declined a dozen transfer offers. What hardened her resolve was a visit to the Nagqu Cemetery of Revolutionary Martyrs, where 518 soldiers and officers are buried. The average age of the people interred there is younger than 30.
"It is the most heartrending cemetery I've ever seen. There are no trees or flowers. Some of the tombstones don't even have names," she recalls.
She cried when she learned of their stories and returned with a stronger determination.
Although she has little time to spend with her own family, Peng is the "daughter" of 24 elderly widows and the "mother" of 35 orphans at the local social welfare institutions.
"Grandpa Tashi", 60, says it was Peng who bought him his first ever birthday cake. "Grandma Tsering", 82, says Peng gave her the first sweater she ever owned.
Peng helped 14-year-old Chodron enroll in a secondary school in Sichuan's provincial capital Chengdu. She wrote Peng a letter last New Year's Eve to express her gratitude.
"Mother Peng, when I first arrived at the orphanage, no one was willing to play with me. They called me 'black girl' because I was dirty. It was you who cleaned me up, got rid of my lice and plaited my hair. It was you who helped me rebuild my confidence and transformed me from an ugly duckling to a white swan."
Peng says she can't clearly articulate why she doesn't want to leave.
"Perhaps a ballad explains it - When you first arrive here, the cold might make you feel lonely; when you embrace her, she will be your warm home."
She is aware she enjoys some advantages as a woman in her work. The shy Tibetan women are more willing to reveal their gynecological diseases to her, and the young soldiers are more inclined to speak heart-to-heart with their "Big Sister".
"If I had worked in a hospital in a big city, the best I could have become is a blade of grass," she says.
"But in Nagqu, where medicine and medical personnel are direly needed, I can be a tall tree, assisting the health of more people."