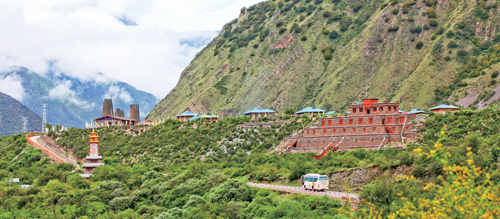 The Gesar Castles, 500 meters away from State Highway 318, are a relic associated with King Gesar, an ancient king in Tibet. [Photo/Xinhua]
The Gesar Castles, with a history of over 1,600 years, are deemed as the oldest and largest castles in southwest China's Tibet Autonomous Region.
According to the locals, the Gesar Castles used to consist of seven castles in the basic form of the Great Bear in the sky but only five are kept intact after going through millennium vicissitudes.
The scenic spot has been approved as Tibet's largest blue peafowl protection base with 13 blue peafowls under second-class state protection rescued there.