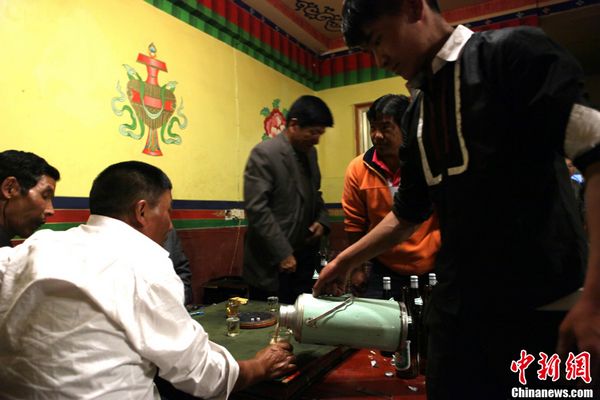 A waiter of the Delin Sweet Tea House serves customers. [Photo/Chinanews.com]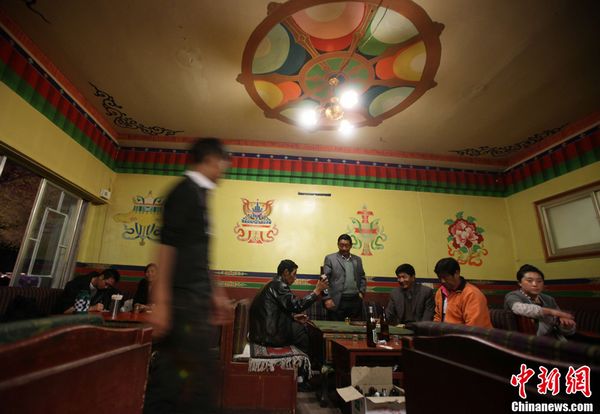 When night falls, the sweet tea houses in Lhasa are warming up with the arriving of locals and tourists in pairs or groups. [Photo/Chinanews.com]
To Tibetans, tea is a drink just like coffee to the Westerners -- a drink to wake up and start the day.
In Tibet, no morning can happily pass without tea, usually the buttered tea, while no lunch is dainty without sweet tea.
Sweet tea houses can be seen everywhere in Lhasa -- no matter when taking a ritual walk around the magnificent Potala Palace or going shopping in the Barkor Street. When the night falls, the sweet tea houses are warming up with the arrival of locals and tourists in pairs or groups.
Sweet tea, means "Qiabadi" in Tibetan, is made of black tea, milk and white sugar, serving as refreshment.
The Delin Sweet Tea House is one of the most famous teahouses on Beijing Middle Road in Lhasa. Strong Tibetan flavor is pervading over the teahouse: colorful patterns of the eight auspicious symbols are painted on the yellow wall, traditional Tibetan rugs are put on the wooden desks and white khada are presented to a statue of Buddha on the counter.
A pot of sweet tea, enough for four drinkers, costs 6 yuan at the Delin Sweet Tea House.
"I am a regular customer here. SometimesI spend the whole day here with my friends." Tshe Sgron said, the locals like to go to the same teahouse even though they have to queue up.
Young Tibetans are also patrons of the teahouse, where they can have a gathering with their friends.
Moreover, the sweet tea house also serves as a chess-and-card room for men. Tibetan men like to play xiu (a traditional Tibetan game of dicing, and players can "kill" each other in the game) at the teahouses. Tshe Sgron said the game is only for men in Tibetan areas.
The atmosphere of the teahouse is livening up by tea and wine.
When Tibetans have no other place to go, the sweet tea house is a good choice to kill time as it also offers Tibetan staple food including zhaba and other Indian and Nepalese style food.
Usually, the sweet tea house in Lhasa opens at 7:00 am, and closes up at midnight when business is good.