Shangri-la, the newly produced TV series on intriguing Tibetan stories is all set for broadcasting through CCTV Channel 1 at 10:30 pm starting from May 6, 2011, news from its launching press conference Wednesday afternoon.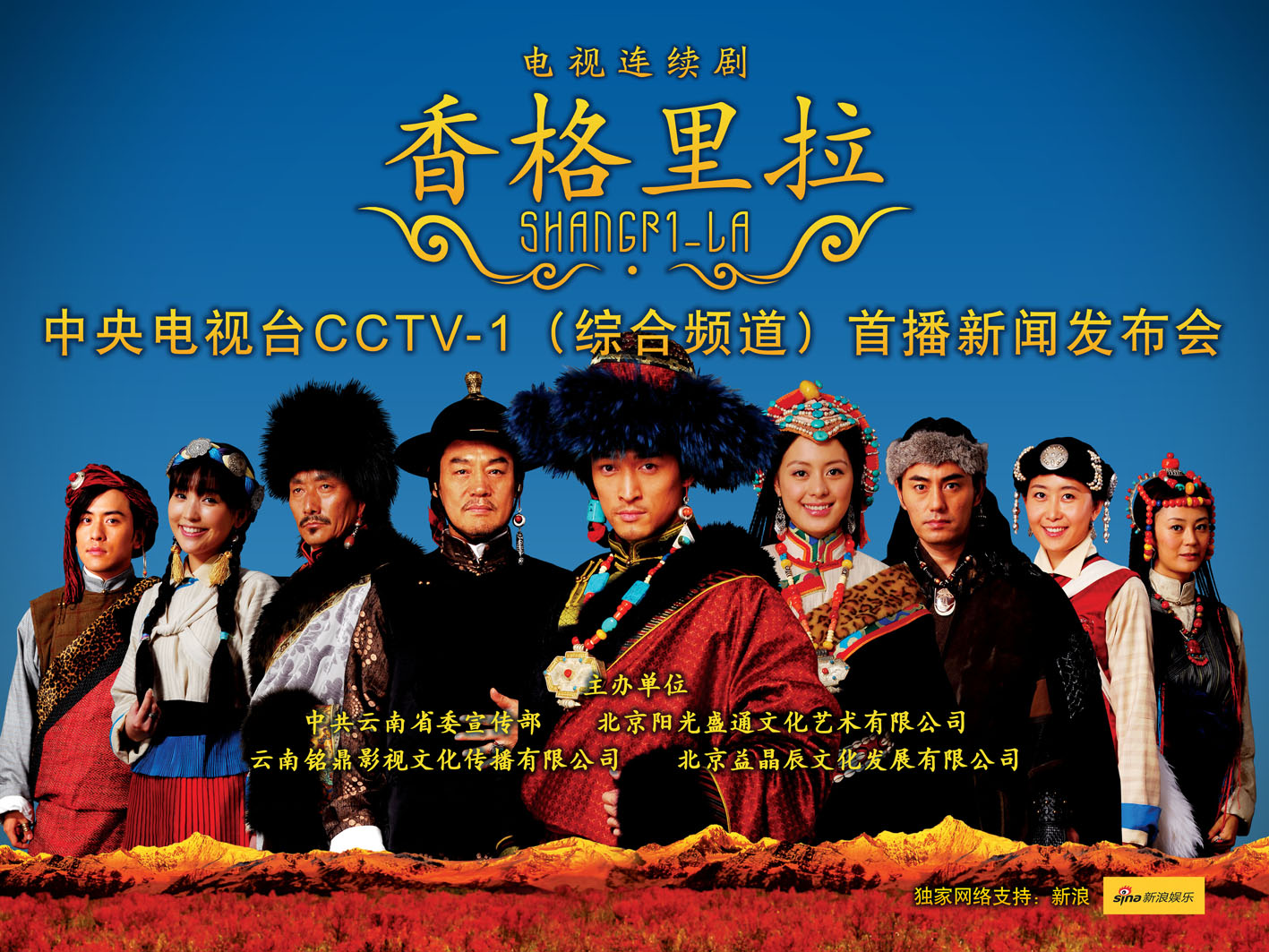 The press conference announced that the new TV series "Shangri-la" is to be broadcast through CCTV Channel 1 every evening from May 6, 2011, on May 4, 2011. [Photo/ Shangri-la]
The 30-episode TV series, directed by HK director Jiang Jiajun (also director of a number of Hong Kong films in 1990s and recent mainland TV series), is starred with a troupe of first-line actresses and young actors.
Tibetan actor Tashi Dundrup is also acting a leading role in this story happened in 1930s, which is trying to probe the harmony and conflicts between human beings tangled with love, hatred, ethnic sensibility and national responsibility.
"With many advanced filming techniques, we want to present conflicts among people from different background and Tibetan sceneries for audiences", said director Jiang Jiajun.
Different from "Shangri-la"-themed movies, the series try to present a whole picture of Tibet in more aspects, such as Tibetan Tusi (native chieftain, an old title in southwest China in Ming Dynasty and Qing Dynasty), local horse caravans, friendship between local people of ethnic minorities and the Red Army, Chinese people fighting against the aggression of the Japanese Army.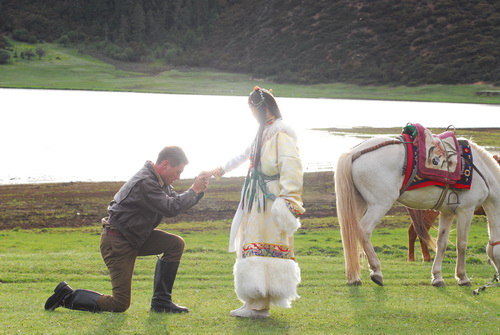 Kangwei, played by Jonathan (L) expresses his admiration for the heroine(R) in the new TV series "Shangri-la". [Photo/ Shangri-la]
In addition to inviting Hu Ge, a popular image among young Chinese, and adopting the impressive fight choreographer used in film "Let Bullets Fly", a good number of horse-riding or gun-shooting battle clips between different groups have brought the producer more confidence about the ratings from the audience.
In the background, the TV series has used much picturesque scenery in Yunnan Province, e.g. ecological features from Shangri-la, Lijiang, Dali, Tsongzanlin Temple, Baishui Tai (said to be the origin of Naxi ethnic group), Hu Tiaoxia to Meri Snow Mountain.