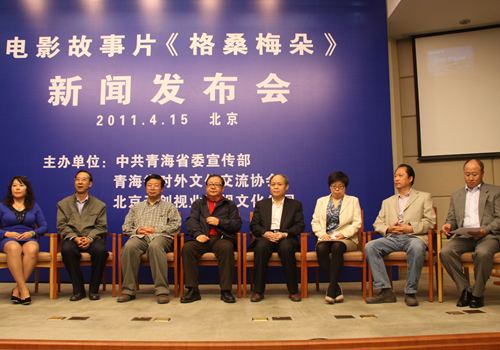 A new feature film, Kelsang Metok, tells the story of an 8-year-old Tibetan girl, who lost her entire family in the earthquake that hit Yushu in Qinghai Province on April 14 last year. The psychological trauma causes her to lose her memory and the ability to speak. But with the help of a little boy called Tao Tao, a female TV news reporter, and a Red Cross psychologist, she finally begins to talk again.
The cast and crew of the film visited the quake-hit area to experience at first hand the emotions of the traumatized survivors, and especially the pain, confusion and depression of the children. They see their film as a positive contribution to the reconstruction effort and to the recreation of Yushu as a spiritual home.
At a Beijing press conference to launch the film, Jidi Majia, a member of the Qinghai Provincial Committee of the Communist Party, said Kelsang Metok focused on the mental suffering of the children bereaved by the earthquake and relief efforts carried out by the public. The April 14 earthquake had not only done terrible physical damage to the region but had cast a shadow on the survivors, especially the children. For a long time after the quake children would wake up in the middle of the night crying. Some were too depressed to speak.
"Houses and schools can be rebuilt, but the psychological effects on the children affected by the disaster can be deep and long-lasting. They need support to rebuild their belief in life. People and communities must pull together to support these children in their healing process," Zhang Yinjun of the China Charity Federation told reporters.