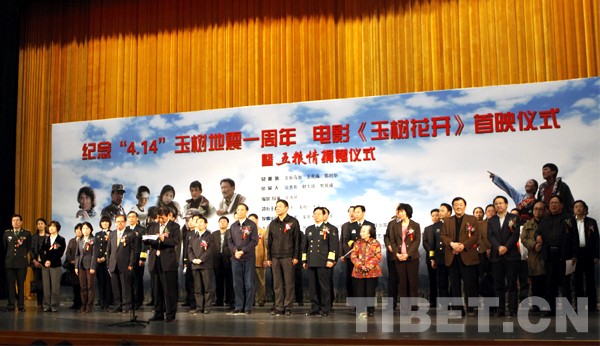 Premiere ceremony for "Flowers bloom in Yushu", a film on the anti-disaster spirit based on the Yushu earthquake, was held in Beijing on Apr. 12. [Photo/ China Tibet Online]
"Flowers bloom in Yushu", a film on the anti-disaster spirit during the Yushu earthquake relief, was premiered on Apr. 12 in Beijing, to mark the first anniversary of "4.14 Yushu Earthquake" in 2010.
When Yushu was stricken by the severe earthquake, people from all over the country expressed their love and concern in one way or another. Film artists went soonest possible to the quake-hit area for relief work, being impressed by the great compatriotic feelings and heart-touching scenes in the relief field.
Though completed in a shortest time, the film has dedicated a great theme of "love, unyieldingness and gratitude" and touches your heart immediately with inspired thoughts about life and death, said Kyidi Magya, chief planner of the film and directer of Qinghai's provincial publicity department.
The film focuses on interpreting the impartible kinship and boundless human love through moving stories between people of Tibetan, Han and other ethnicities, affirming that compatriotic blood ties always extend beyond geographic dimensions.
It is reported that audience will see the film soon in nationwide cinemas.