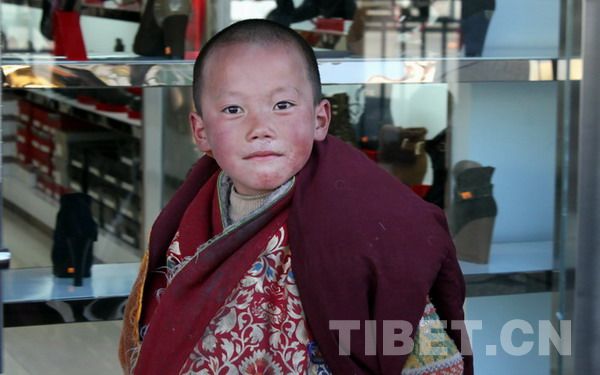 Tsering Dorje, a 7-year-old lama, comes to worship Buddha in Lhasa from Qinghai Province. [Photo/China Tibet Online]
Tsering Dorje is a lama in his hometown monastery in Qinghai Province. At the age of seven, his life restarts with Buddha, sutras, and faith.
Life on Buddhism practice started from childhood
What is a 7-year-old child like? It could be an indulgent baby in mommy's embrace, a scatterbrained first-grade pupil, or a naughty kid playing and fighting around with his or her little companions.
But, these seem hardly to have anything to do with the 7-year-old Tsering Dorje, a little Tibetan Buddhist monk.
Hardly has the Losar passed when Tsering Dorje and his family come to Lhasa to worship Buddha and pray for auspiciousness.
It is the first time for little Tsering Dorje to worship Buddha in the Jokhang Temple, to see the Potala Palace that he has dreamed of many times, and to experience such a busy city.
Tsering Dorje got ordained as a lama in his hometown in Qinghai Province in 2012. At first, he was not used to sitting in a room and reading scriptures all day long in the temple. Every time he was about to have some fun with the elder lamas, Yongzin (a special salutation for sutra teacher) would call them back to continue studying sutras.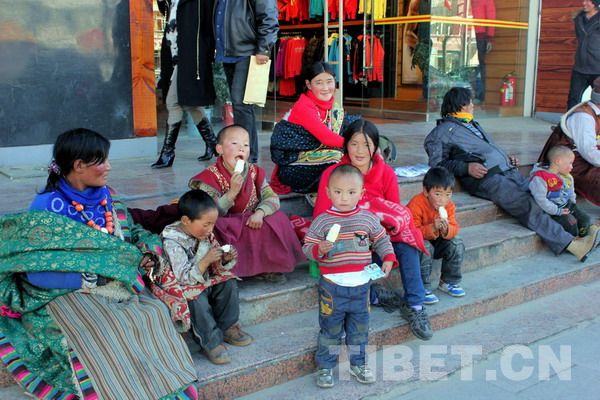 Tsering Dorje and his families are having a rest in front of a department store in Lhasa. [Photo/China Tibet Online]
Paying homage on trip to Lhasa
Half a year passed when the 2013 Tibetan New Year arrived. Tsering was told that he could go home and celebrate Losar with his families. So he went to his elder brother and shared the good news. Though the brother was more used to the Buddhist cultivation in the temple, the two returned home happily.
Tsering Dorje's parents promised to take them to worship Buddha in Lhasa as a new tear's gift. From then on, the two brothers couldn't help getting excited.
When the family got to Lhasa, the twelve of them first paid homage to the major temples and then visited the surrounding tourist places.
Little Tsering Dorje still has some childish traits. While coming back from the Potala Palace, he kept "bullying" his younger brother with his lama robe. His parents sometimes asked him to be good but didn't really mean to scold the little boy, who laughed out and continued his "games" with the laughing younger one. This attracted the passersby's attention and tender smile.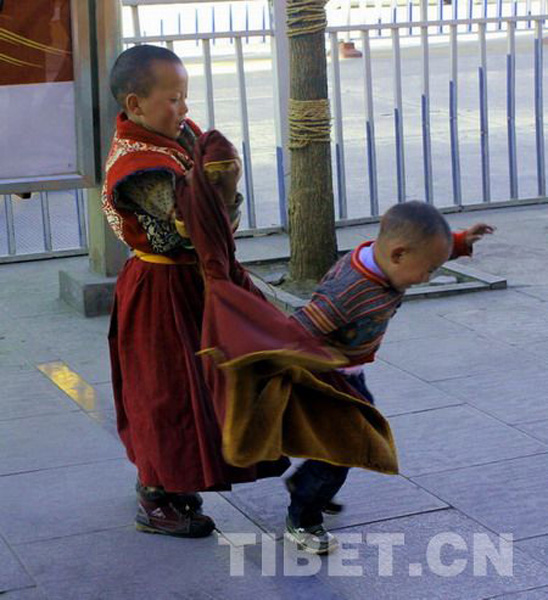 Tsering Dorje is playing with his younger brother on the road from the Potala Palace. [Photo/China Tiet Online]
When the family stopped at a shop selling sports clothes, the parents wanted to buy some for Tsering's elder brother and needed to buy some ice cream first to pacify Tsering and his young brother so that they could stay good and played outside obediently.
"Lhasa has so many people and funny places. The temples and monasteries are bigger than those in my hometown. And the Sun is even more comfortable. I hope to cultivate sutras in Lhasa some day in the futre." Tsering Dorje said while playing with his brother.
Then, Tsering Dorje's sister, who was a teacher at her hometown, took out a camera to take photos of them. The two joyful kids soon ran after the sister and asked to have a look at the photos taken. A childish trait came alive.