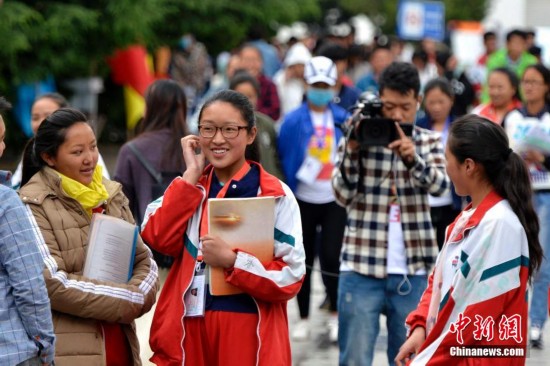 Students leave the Lhasa Middle School after finishing the National College Entrance Exam in Lhasa, capital of southwest China's Tibet Autonomous Region, Jun. 9, 2015. [Photo/Chinanews.com]
Tibet has entered the college admissions season in July. The college admission rate in Tibet this year is nearly 75 percent with 15,553 students to be enrolled in colleges and universities. Among them there are 38 more undergraduate students from poor areas than in 2014, and they will also receive financial aid to enjoy equal education opportunities.
According to Xinhua report, that state and the Tibet Autonomous Region have established many kinds of subsidy policies, including national scholarships, student loans, one-time financial aid for very poor students, as well as free education policy for teacher training, agriculture, forestry, irrigation, and mining majors. National scholarships and financial aid are co-financed by the central government and the regional government.
In 2015, children from rural impoverished families, from urban families living under the minimum livingstandard, and children from impoverished workers' families will receive a one-time allowance: undergraduates admitted to key universities outside the Tibet Autonomous Region will receive 5,000 yuan, and students to polytechnic schools will receive 4,000 yuan. Undergraduates and polytechnic students who attend schools within the Tibet Autonomous Region will receive 1,000 yuan.
In addition, Tibet will continue to provide free and subsidized education and allowances of 2,800 yuan per student per year for new students who pursue majors in teacher training, agriculture, forestry, irrigation, and mining, as well as 800 yuan for room and board and a 2,000 yuan living allowance. This policy covers both students within the Tibet Autonomous Region and Tibetan students in inland China.
According to the Education Department of Tibet Autonomous Region, when students from Tibet enroll in university, if new students who come from impoverished families cannot raise enough money for tuition and living expenses, they can sign up through the "green channel" program once university begins. After reporting to the university, the university will then verify the identification of the student and will carry out various measures towards providing financial aid.
Ma Shengchang, head of the Education Department of Tibet Autonomous Region, said that ensuring all students from impoverished families have equal opportunities for education is important for promoting education equality. In 2014 alone, Tibet invested 139 million yuan in higher education aid, which benefitted 36,400 students.