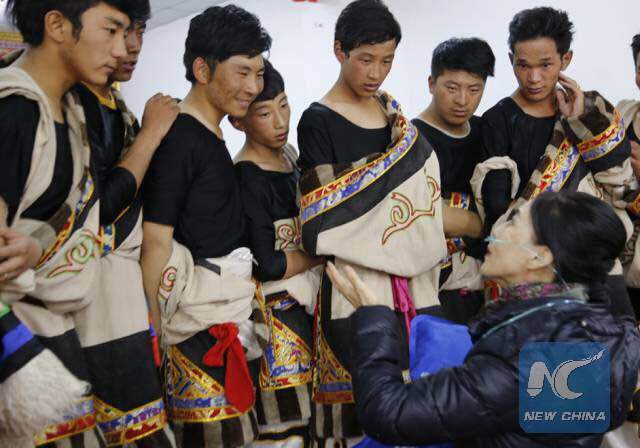 Yin Mei talks to the Tibetan dancers. (Photo provided by interviewees)
Renowned Hollywood composer Klaus Badelt is seeking to internationalize Tibetan music by combining original folk melody with symphony.
He has been working on the musical "Dream", which mixes original music from Lhasa, capital of southwest China's Tibet Autonomous Region, and Baingoin county of Nagqu Prefecture.
"It's an amazing opportunity for an artist to explore the rich history of Tibet," Badelt said.
Best known for film scores for Pirates of the Caribbean and Pearl Harbor, and as the only western composer in the Beijing Olympics closing ceremony, Badelt was drawn by the exotic music of Tibet when he first heard it.
During his first research visit to Tibet, an 83-year-old musician who had lived and worked in Tibet for more than 46 years shared with him all his collections of original Tibetan music.
"We were stunned when we heard it, we can feel the power of the music although we don't even understand the lyrics," said Yang Gefang, music director for "Dream", who was on the same trip.
"I feel like Tibetan music can be appreciated by all people despite their language and skin color," said Yang.
According to Yang, Badelt said most music has good and bad sections, but Tibetan music is "all beautiful".

After their trip, Badelt decided to keep the original songs and dances without changing them.
"My intention is to be very true to the original ancient song and dance. I want to incorporate and be influenced and inspired by these songs and dances," Badelt said.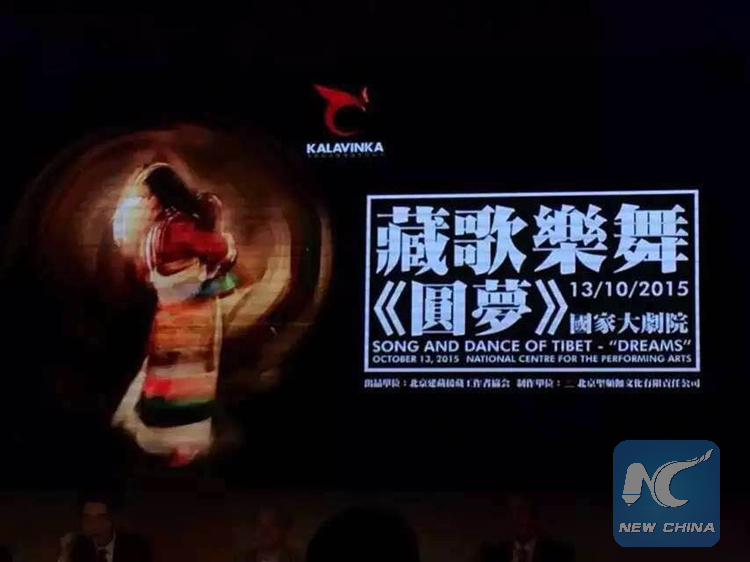 Poster of the musical. (Photo provided by interviewees)
Zhang Yuan, CEO of the Kalavinka company, which invested in the musical, agreed with Badelt's decision.
"Original Tibetan music is like a fine cooking ingredient. What we need to do now is to simply fry it and decorate the plate with symphony and some modern elements to make it look nicer," Zhang said. "The music is so beautiful and touching that it seems disrespectful to make any kind of change."
The Royal Philharmonic Orchestra was invited to partake in the musical, marking the first time a renowned orchestra has played Tibetan music.
As for the dancing, Yin Mei, department head and tenured professor of Queens College of The City University of New York, was invited to help choreograph.
"It's my first time seeing Tibetan dance, it is nothing like any of the dances I've learned and known before," Yin said. "There's something so pure and so true to life that cannot be described through language and techniques. I feel like I'm just a student."
Twenty-one untrained dancers from Baingoin county have been selected to dance in the musical.
Ngodrup, a young man who has lived his whole life on the grassland in Baingoin, arrived in Beijing with the rest of local dancers in July for rehearsal.
He said dancing and singing are the happiest things in his life. He promised to bring his best performance and help more people appreciate original Tibetan music.
The musical is adopted from a real story. It's about a photographer who was saved from a snowstorm by Tibetans and repaid them by helping a sick Tibetan girl seek care. The opening of Qinghai-Tibet railway finally made it possible for the girl to be treated inland.
The musical will be performed in Beijing's National Centre for the Performing Arts in October.
Editor: Lucia Su