Tibetan tea culture has a history dating back at least a thousand years. In Tibetan language, tea is referred to as "jia". Tea has special functions such as aiding digestion, stopping thirst and revitalizing energy. Since meat, butter and barley is staple food for people living on the Qinghai-Tibet Plateau, there is not one day they can go without tea.
Tea was not originally produced in Tibet. In Tibetan historical chronicles, the origin of tea coming into Tibet is recorded.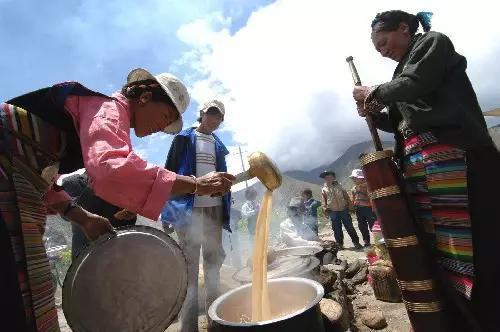 In ancient Tibet, Tubo king Dusong Mangpoje had a serious illness. During his recovery, a beautiful bird he had never seen before on the roof of the palace, holding a branch with a few leaves on it in its mouth. The king sent his officials to go retrieve the branch from the bird to bring to him.
The king plucked the leaves, tasted them and decided they were fragrant and tasteful. He thought if it were added to boiling water it would make a good drink. So the king sent his officials and people to find the wonderful tree. After many arduously searching, they found the tea tree. Since that time, the tea was introduced into Tibet, where the drink gradually became an indispensable part of daily life.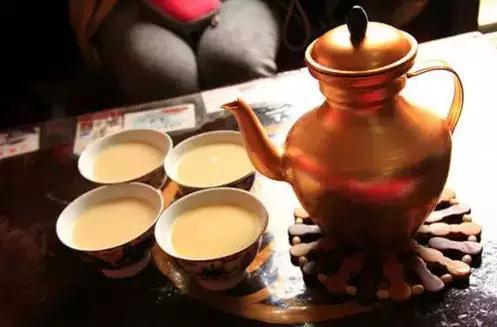 Once introduced to Tibet, the people found the tea helps digestion. It has since been such a necessity in daily life that everyone from Kings and nobles to ordinary people drink this tea. Thus, the two places were linked and the Ancient Tea Horse Road came into being.
Chinese tea-for-horse trade with Tibet flourished. With this trade the tea culture of the inland China formed with the unique feature of Tibetan butter as part of it. It became deeply engrained into the Tibetan people's social customs, social etiquette and the art of living in all of its aspects; tea ceremony, tea sets, tea brewing and tea drinking became specific characteristics of tea culture on the plateau.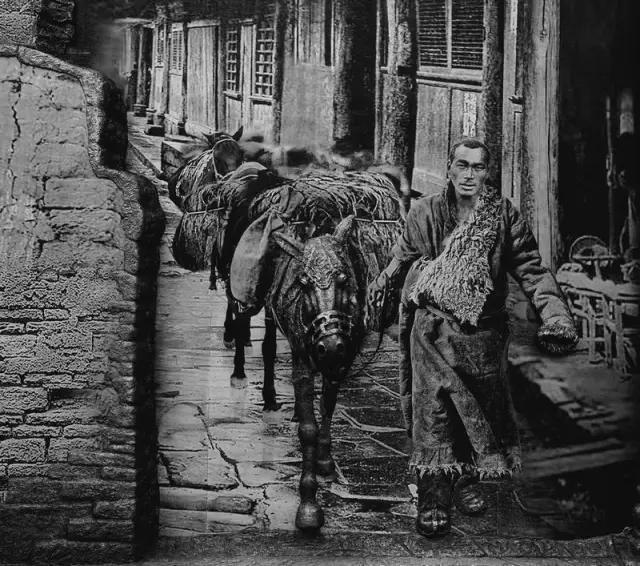 In Tibet, Tibetans mainly drink buttered tea, sweet tea and light tea. The yak buttered tea quickly circulating during the ancient Tubo Kingdom has become a favorite drink in Tibet.
This is the method of making buttered tea. First brick tea produced in Sichuan and Yunnan Provinces is boiled into a concentrated tea. The tea leaves are then filtered out and set aside. To make the butter tea you take the right amount of tea plus a certain percentage of water and salt, which you then pour into a barrel. Then you add in the butter, which you churn into the tea up and down repeatedly to mix the ingredients into delicious buttered tea.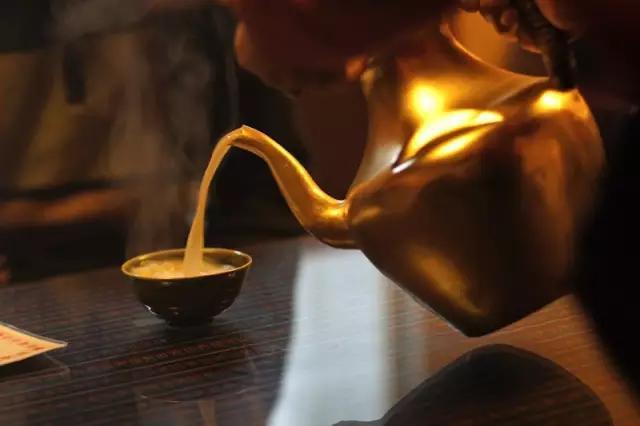 With social progress and the improvement of living standards, greater amounts of power and electricity are now available to the plateau people. Many people have started to use an electric mixer to beat the buttered tea, so certain traditions of this practice have become mechanized in modern times.
Buttered tea is high in calories and therefore energizing. The drink helps in resisting the cold and is therefore very suitable for the alpine regions. Buttered tea is strong in taste and aroma, yet has a very refreshing effect.
The tea also helps dissolve fat and aids digestion. Especially for herdsmen living in the pastoral area of the Qinghai-Tibet Plateau, their diets lack fresh fruits and vegetables. Food stables are instead beef and mutton. To maintain their body's water balance, they drink tea to sustain a normal metabolism since they lack vitamin supplements.
Tibetans cannot go one day without drinking the tea. Some families with conditions will drink only the buttered tea in the morning and drink light tea in the afternoon. Tibetans pay special attention to how they drink tea, which must be sipped slowly. To drink the tea loudly suggests you lack cultivation and manners.
In Tibet, drinking tea's accessories are also very fashionable. Tea bowls are porcelain, silver, jade, wooden and so on. Commoners generally use wooden bowls, which are usually sculpted from birch wood. Using wooden bowls to drink tea helps avoid people from burning their mouths, enhances the flavor of the tea and are easy to carry.
In Tibet, tea also acts as an important ritual to wish friends and family a safe journey. At village entrances, railway stations, and airports it is common to see people being sent off carrying buttered tea in a thermos or bottle. This tea is used often to see friends and relatives off on their journeys.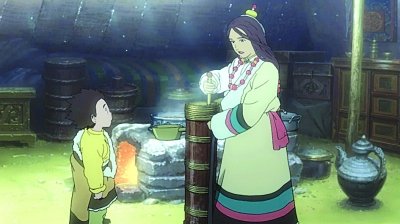 When children are born, on the second day for a boy and the fourth for a girl, friends and family will bring buttered tea to congratulate the new parent. Friends and family will also bring a bottle of thick, sweet buttered tea to patients in the hospital to give them extra comfort.
Buttered tea is served to visitors as it represents the entirety of the Tibetan tea customs, from rural and pastoral areas to urban and modern areas. When visitors enter the house, the owner of the house will present them with the sweet-smelling buttered tea, and will invite them to drink a cup before proceeding on to the rules of procedure. To invite someone to tea is a way for Tibetan people to express their hospitality.